GAME

DESCRIPTION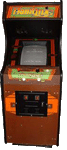 March into action against the enemy in Coleco's FRONT LINE, a game of battle. Your mission? Invade enemy territory and knock out their fortress. To do it, you'll have to fight your way across constantly changing terrain. By vehicle or on foot, you'll charge through dense underbrush, over burning desert

sands, and across treacherous river bridges. If you succeed in demolishing the enemy fort, your reward will be a new battle against an even more experienced army!
Port of Taito's arcade game released in November 1982.

GAME

TRIVIA

The original arcade version consists of a joystick, a single button (other than the "player one" and "player two" start buttons), and a rotary dial that can be pushed in like a button, which fires the weapon. The single button is used to throw grenades, and to enter and exit the tank.