GAME

DESCRIPTION

Score as many points as possible by changing the color of the cubes on the pyramid from a starting color to a destination color.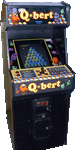 You'll do this by hopping Q*bert from cube to cube while avoiding the "nasty" characters who will try to stop him. Each time you complete a pyramid, you'll proceed to a new pyramid or round.
Try to complete as many rounds as you can. There are six separate games; nine levels in each game, and four rounds per level.

Port of Gottlieb's arcade game released in 1982.