GAME

DESCRIPTION

Treacherous Gargamel has captured Smurfette and has trapped her in his lab. To free her, nimble-footed Smurf must run, jump and duck his way through dangerous woods, fields and cavern. Dodger the spooky hawks, bats and spiders sent by Gargamel. Can you rescue Smurfette and save the day?
GAME

TRIVIA

Super Smurf was to be released for the Super Game Module. But as this module was canceled, the game was canceld too.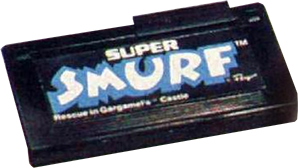 An Intellivision version was planned but never developed or released.
Upon reaching Smurfette's screen, the player can return to the previous screen. Just before the screen changes, it will appear as though the top of Smurfette's dress comes off, making her appear topless.
Smurf is the first in-house Coleco programmed game for the ColecoVision (the first game being Cosmic Avenger programmed by Nuvatec, Inc.).
Paul Jaqueys remembers: The owners of the Smurfs objected to the blue color that ColecoVision could create, it wasn't exactly "Smurfy."
Source: Coleconation #9