SCANS

OF THE CBS2 MODEL






Back
Ref 74-374
Cart
Ref 4L4505
Manual
Ref 2L2349
©1984 CBS Toys, a division of CBS Inc.
Program & Audiovisual ©1984 Coleco Industries Inc.
Package ©1984 CBS Toys, a Division of CBS Inc.
Made in England by CBS Electronics, Woodley, Berks.
Printed in Holland.
ICC 805001
Barcode : 5 010779 74360 7
OTHER

MODELS





SUPER

ACTION SOCCER

For the 30th anniversary of the Colecovision, Luc Miron of Team Pixelboy created a limited-edition of this game as it was never released in North-America, renaming it Super Action Soccer.
He used Philipp Klaus Krause's mini-cartridge homebrew kit. He hacked the Rom to replace "FOOTBALL" by "SOCCER" in the game.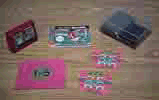 GAME

TRIVIA

There is another title called "Super Action Football" which is a game of American football and not soccer.

The term soccer originated in England. It's an abbreviation of the word "association" as this sport is Association Football. Within the English-speaking world, association football is now usually called football in the United Kingdom, and mainly soccer in Canada and the United States. Other countries, such as Australia and New Zealand, may use either or both terms.
GAME

DESCRIPTION

Super Action Football gives you the chance to be the most accomplished star player of any team that ever was.

You will be the goal-keeper diving to make incredible saves, the full back with fierce last minute tackles, the mid-field 'general' directing shrewd passes and the centre forward scoring great goals. You will be involved all the time in the most exciting moments of the game. You will score the winning goal.