SUPER

ACTION SOCCER

For the 30th anniversary of the Colecovision, Luc Miron of Team Pixelboy created a limited-edition of this game as it was never released in North-America, renaming it Super Action Soccer.
He used Philipp Klaus Krause's mini-cartridge homebrew kit. He hacked the Rom to replace "FOOTBALL" by "SOCCER" in the game.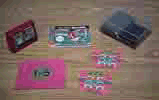 GAME

TRIVIA

There is another title called "Super Action Football" which is a game of American football and not soccer.

The term soccer originated in England. It's an abbreviation of the word "association" as this sport is Association Football. Within the English-speaking world, association football is now usually called football in the United Kingdom, and mainly soccer in Canada and the United States. Other countries, such as Australia and New Zealand, may use either or both terms.