GAME

DESCRIPTION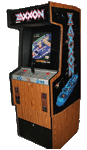 Coleco's Zaxxon – a stunning 3-D space game – takes you across alien asteroid fortresses.
The evil robot Zaxxon and its fierce armies have conquered a once-free asteroid belt. Your mission is to stop them before they enslave the galaxy!
Approach the asteroids, pass the barrier wall and then dive your fighter low over the enemy surface. You must evade enemy fire from turrets, mobots and base missiles as you search for the Robot Warrior. But if you fly too high, a missile homes in on your fighter. At the asteroid's end, pull up to fly over treacherous force field walls.
Once you successfully cross one asteroid fortress, you must fly through space to another. Avoid the enemy squadron that combs the galaxy in search of your fighter. Return their fire as you search the next asteroid for Zaxxon, the deadly robot warrior. Will you succeed at your ultimate mission and defeat these evil forces?
Port of Sega's arcade game released in January 1982. At the time of its release, Zaxxon was unique as it was the first game to employ isometric projection, something of a three-quarters viewing perspective. This effect simulated three dimensions
GAME

TRIVIA

At the time of its release, Zaxxon was unique as it was the first game to employ axonometric projection, which lent its name to the game (AXXON from AXONometric projection). The type of axonometric projection is isometric projection: this effect simulated three dimensions from a third-person viewpoint. It was also one of the first video games to display shadows, to indicate the ship's altitude above the surface.

The ColecoVision version, designed by Coleco staffer Lawrence Schick, was the first home version to use the isometric graphics.