SCANS

OF THE CBS1 MODEL

Lady Bug® est une marque déposée appartenant à Universal Co Ltd ©1981
Fabriqué au Royaume-Uni
Conception, programme, réalisation du logiciel ©1983
Coleco Industries Inc., New York 12010. Licensié
exclusif Coleco Industries Inc. ©'1983 CBS Toys, a
Division of CBS Inc.' Imprimé en Hollande
Barcode : 5 010779 74328 7
SCANS

OF THE CBS3 MODEL

Ladybug™ is the trademark of Universal Co., Ltd. ©1981
Package ©1983 CBS Inc., 51 West 52nd Street, N.Y., N.Y. 10019
Program and Audio Visual ©1982 Coleco Industries, Inc. Printed in Holland.
Packaged in The U.K.
ICC 243301
SCANS

OF THE COLECO1 MODEL

Front scanned by NIAD.
Back scan from Chuckwalla
Lady Bug™ is the trademark of Universal CO. Ltd ©1981
Printed in Canada
©1982 Coleco (Canada) Package, Program & Audiovisual
Imported by Coleco (Canada) 4000 St-Ambroise, Montréal, Québec H4C 2C8.
OTHER

MODELS



GAME

DESCRIPTION

Based on the exciting Universal arcade game, ColecoVision LADY BUG features a fast-paced adventure.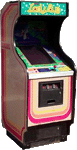 Use strategy to steer your Lady Bug through a maze, dodging hungry predatory insects.
Use turnstiles to change the maze and block their pursuit! Lady Bug gathers points and bonuses by eating dots, hearts and vegetables and by spelling words. But avoid the deadly skulls! How many points can you rack up before moving on to faster action?



Port of Universal's arcade game released during October 1981.

GAME

TRIVIA

The gameplay of Lady Bug was inspired by Pac-Man but with several additions to the formula, such as the ability to alter the layout of the maze through gate-shifting.