GAME

DESCRIPTION

Strap on your goggles, rev up the engines and take off! Your LOOPING plane soars over a world unlike any you've ever imagined. Fire bullets into a rocket station to open the gate.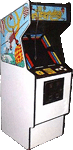 Beware of launched balloons! Test your flying accuracy and sense of direction by steering your plane through a maze of pipes. You survived? Stranger perils await. There are rooms
full of green drops, twinkle monsters and bouncing balls. Can you outsmart them all and reach The End?
Port of Venture Line's arcade game released in April 1982.