GAME

DESCRIPTION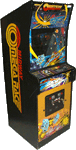 In Coleco's OMEGA RACE, command a starship in the weightlessness of a deep-space training field. Bounce off barriers to pilot your Omega fighter in skirmishes against the Droid forces. Fire laser blasts at the enemy while evading return fire from the fleet-leader. If you eliminate the first fleet, others follow.

But if you take too long, the Droids become Death Ships that track and blast at your fighter and drop mines as additional hazards!

Port of Midway's arcade game released in June 1981.