SCANS

OF THE CBS1 MODEL

Space Fury™ est une marque déposée appartenant à Sega Enterprises, Inc. ©1981
Fabriqué au Royaume-Uni.
Conception, programme, réalisation du logiciel ©1983
Coleco Industries Inc., New York 12010. Licencié exclusif Coleco
Industries Inc. ©'1983, CBS Toys, a Division of CBS Inc.'
Imprimé en Hollande
Barcode : 5 010779 74330 0
SCANS

OF THE CBS3 MODEL

Space Fury™ and Sega® are trademarks of Sega Enterprises, Inc. ©1981
Package © 1983 CBS Inc.,
51 West 52nd Street, N.Y., N.Y. 10019
Program and Audio Visual ©1982 Coleco Industries, Inc.
Printed in Holland. Packaged in The U.K.
SCC 241501
SCANS

OF THE COLECO1 MODEL

Front scan from VideoGameObsession.com
Space Fury™ and Sega® are trademarks of Sega Enterprises, Inc. ©1981
Package, Program & Audiovisual ©1982 Coleco Industries, Inc.
Amsterdam, New York 12010
Packaged in U.S.A. Printed in U.S.A.
Barcode : 0 76930 02415
OTHER

MODELS



GAME

DESCRIPTION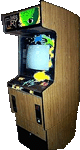 Coleco's Space Fury pits you against the space fleet of the Alien Commander. Maneuver your fighter to avoid enemy scouts. Then fire to eliminate them before they join to complete a ship that shoots deadly fireballs. Banish the first squadron and you get a chance to join with a mother ship that gives you more firepower. If you defeat all the squadrons, you'll be matched against the entire alien fleet! How many of the Alien Commander's attackers can you conquer?



Port of Sega's arcade game released in July 1981.

GAME

TRIVIA

The arcade game Space Fury was an early example of color vector graphics and it also featured speech synthesis.